Published by Mass Device Medical Network
CSA Medical announced this week that it won CE Mark approval for its RejuvenAir system for treating chronic obstructive pulmonary disease (COPD) with chronic bronchitis (CB).
The RejuvenAir system that is designed to apply spray-liquid nitrogen at -196◦C in a circumferential pattern to central airways through a minimally invasive bronchoscopic procedure, freezing damaged surface area lung cells for a rejuvenating healing process.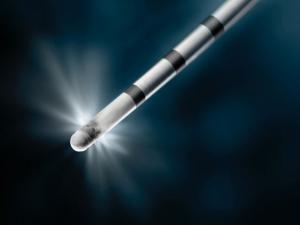 European approval comes after CSA Medical presented data from a one-year study that treated 35 patients using metered cryospray. Results showed clinically significant improvements in multidimensional measures of cough, sputum production, breathlessness and quality of life, according to a news release. Lexington, Mass.–based CSA Medical said the quality of life scores were superior to the pharmacologic standard of care.
"While pharmaceutical options can decrease cough and mucus production, the RejuvenAir system offers the only treatment able to address the underlying cause of CB — while simultaneously treating the debilitating symptoms," CSA Medical SVP of regulatory, quality & clinical affairs Heather Nigro said in a news release. "This patient population now has an option that can dramatically improve their quality of life."
"RejuvenAir metered cryospray can be safely delivered in patients with COPD and demonstrates clinical meaningful improvements in quality of life and patient-reported outcome scores out to 12 months," added Dr. Pallav Shah of the Royal Brompton Hospital in London. "This is a promising new therapy for the millions of people who suffer from chronic bronchitis."
The RejuvenAir system is still under clinical investigation the U.S. CSA Medical has raised nearly $75 million over the past 14 months in funding, pulling in $23 million in October 2018, then grabbing $50.3 million in separate equity and debt rounds in February.